FSM Turkey Bowl 2013 :: Sunday, Nov. 24th 2013 :: 3pm to 6pm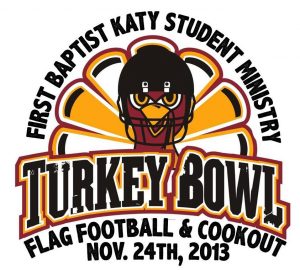 Join us for a fun flag football game for everyone! It's going to be a blast hanging out with families, throwing around the pigskin and having a cookout. It's good for us to be together as an FSM family and what better time to do it than right before Thanksgiving.
The church will be providing the hot dogs and buns and we are asking families to help out with sides and desserts. Just click the link below to sign your family up for the Turkey Bowl and register what you are bringing for the cookout. If your last name starts with A-M please pick a SIDE DISH and if your last name starts with N-Z please pick a dessert!
Look forward to seeing you and your family on Nov. 24th!  TURKEY BOWL SIGN UP