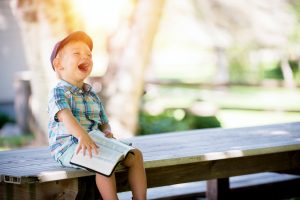 Sunday Morning Bible Studies
Join us each Sunday Morning for Kids Bible Study  classes. Birth – Pre-K will check-in at our Littles desk and head to their classroom to learn God's Word with their friends through teaching and play. Kids Kindergarten through 5th grade check-in at the K1 Kids Check-in (look for the blue flags outside). They begin together in Rm. 222 to sing songs, and then break out to graded classrooms to learn God's Word in fun and interactive ways.
Worship
Birth through 5th grade participate in our family worship services with their families at 10am in the Worship Center.  At Katy's First we are grateful your child is learning with us.  We believe that a love of worship is "caught" as much as "taught", so we welcome your family's wiggles and noises!