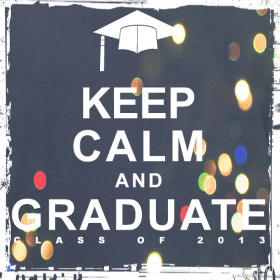 Class of 2013 it is almost time to make that long walk across the stage to receive that diploma that you have worked so hard for!
First Student Ministry would like to invite you to be recognized for this accomplishment during our 10:45AM Worship Service on Sunday, June 2nd. We have a gift to give you and would love the opportunity to celebrate your accomplishment with our whole church family that morning. If you would like to participate in this recognition please meet in the worship center foyer at 10:30AM with your cap and gown so that we can prepare you to process in at the beginning of the service. We will also need a senior picture, a grade school picture and a baby picture emailed to jhicks@fbckaty.com or dropped by the church office by Wednesday, May 22rd. If you can scan the pictures and send them electronically it will help us tremendously. If not, we will scan them and you will get them back on June 2nd.
Immediately following the service we invite you and your immediate family to The Studio for a lunch in your honor. This will be a great time to reminisce with other friends and family, take pictures and enjoy a meal together.
If you plan to participate in these celebrations please confirm your attendance on this web page using the link on the right side of the page called Graduate Recognition Confirmation: Class of 2013. If you would fill out the form that comes up it will let us know you are planning to attend and how many to plan food for. If you have questions regarding either of these opportunities please don't hesitate to call Jon Hicks at the church office              (281-391-1100) or send me an email at jhicks@fbckaty.com.
First Student Ministry Class of 2013, you have been a tremendous class and made numerous contributions to the ministry here at First. I hope that you will allow us the honor of recognizing your accomplishment and celebrating with you on June 2nd.
Graduate Recognition Confirmation: Class of 2013