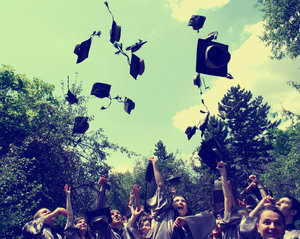 Congratulations Graduates! We know it's been a long road to these moments and we would love to celebrate with you.
First Student Ministry would like to invite you to be our guests for a free dinner for you and your immediate family on Sunday, May 20th at 5:30pm as part of our Celebration of Families.
We are setting graduates up with special seating for the evening where you will be recognized as part of the program and enjoy the comedy of Chuck Montgomery. It will be a fun night for the whole family and a great way for you to be recognized and celebrated for your accomplishment.
We also want to recognize you during our 10:45AM Worship Service on Sunday, May 27th. We have a little gift to give you and would love the opportunity to celebrate your accomplishment with our whole church family that morning. If you would like to participate in this recognition please meet in the worship center foyer at 10:30AM with your cap and gown so that we can prepare you to process in at the beginning of the service. We will also need a senior picture emailed to jhicks@fbckaty.com or dropped by the church office by Wednesday, May 23rd.
If you plan to participate in either or both of these celebrations please confirm your attendance by clicking this Graduate Recognition Confirmation link and filling out the attached form. Thank you, congratulations, and we look forward to celebrating with you!