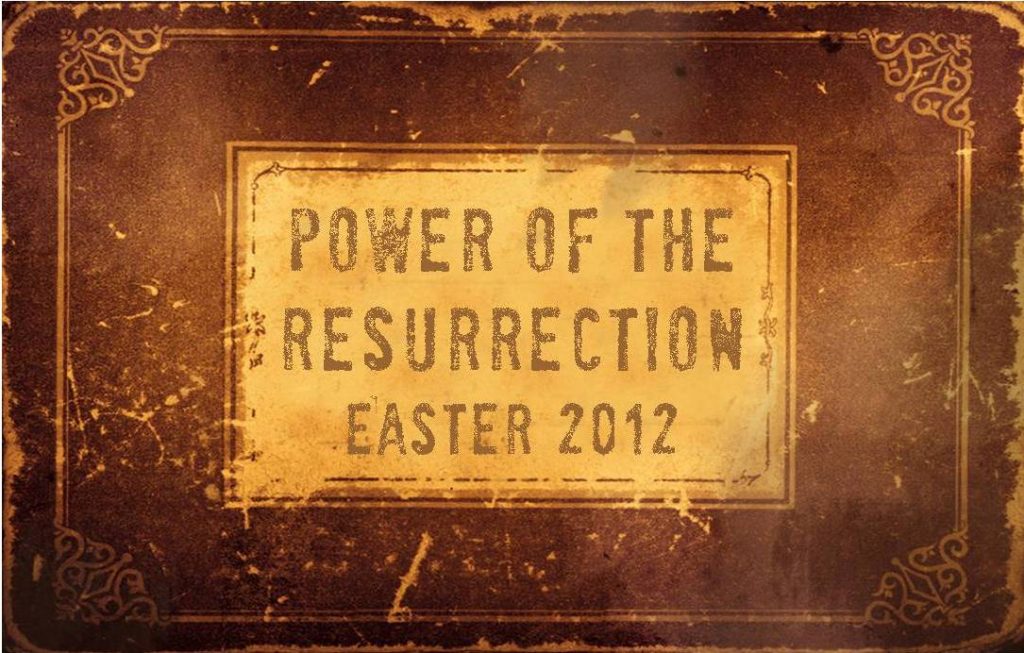 If you asked me, Easter week gives Christmas a run for it's money as "The Most Wonderful Time of the Year." What it's missing in cozy fires, roasted chestnuts, and sleigh rides, it more than makes up for in wildflowers, sandals, and  grilling with friends. But more than aesthetics Easter week heralds for all to hear that Christ is risen! The tomb is empty! That is a powerful statement today, in large part because the early disciples were captured by the power of that truth 2000 years ago.  As we prepare to celebrate Easter 2012, I thought it might be interesting to trace how these early disciples were affected by the resurrection and let it remind us of it's power in our lives today.
Acts 4:23-31
New American Standard Bible (NASB)
 23 When they had been released, they went to their own companions and reported all that the chief priests and the elders had said to them.24 And when they heard this, they lifted their voices to God with one accord and said, "O Lord, it is You who MADE THE HEAVEN AND THE EARTH AND THE SEA, AND ALL THAT IS IN THEM, 25 who by the Holy Spirit, through the mouth of our father David Your servant, said,
   'WHY DID THE GENTILES RAGE, 
AND THE PEOPLES DEVISE FUTILE THINGS? 
26 'THE KINGS OF THE EARTH TOOK THEIR STAND, 
AND THE RULERS WERE GATHERED TOGETHER 
AGAINST THE LORD AND AGAINST HIS CHRIST.'
 27 For truly in this city there were gathered together against Your holy servant Jesus, whom You anointed, both Herod and Pontius Pilate, along with the Gentiles and the peoples of Israel, 28 to do whatever Your hand and Your purpose predestined to occur. 29 And now, Lord, take note of their threats, and grant that Your bond-servants may speak Your word with all confidence, 30 while You extend Your hand to heal, and signs and wonders take place through the name of Your holy servant Jesus." 31 And when they had prayed, the place where they had gathered together was shaken, and they were all filled with the Holy Spirit and began to speak the word of God with boldness.
This prayer is prayed as a result of a string of events that began when Peter and John went to the Temple to pray. They were met there by a man who was unable to walk and in the name of Jesus they healed him. The astonished crowd at the Temple gave Peter the opportunity to share the Gospel: Jesus, whom God raised from the dead, offers forgiveness of sin to those who repent and turn to Him. This message, particularly the part about Jesus' resurrection,  promptly got them arrested by the Jewish authorities. The authorities could find no way to punish them, hard to deny that a man who everyone knew couldn't walk was now free to run marathons, so the authorities "charged" them not to speak any longer in the name of Jesus and sent them away.
So after healing a crippled man, speaking boldly the message of Jesus to the people in the Temple, being arrested, spending the night in jail, testifying to the resurrection of Christ again to the Jewish authorities, and finally being released Luke says they joined their friends in this prayer for what? Rest? Protection? Safety? No. No. and No. They prayed for what we would all pray for in this situation, more boldness! Verse. 29 says, "And now, Lord, look upon their threats and grant to your servants to continue to speak your word with all boldness."
In the weeks and months following the resurrection of Jesus, it was that truth, that fact, that the tomb was empty, that propelled these men, one of whom had denied he knew Jesus just weeks ago, to a boldness in spreading the message of that resurrection that it got them arrested and threatened. No doubt this episode was a reminder of just how rough this road would be for them, and yet their inclination is not to soften the message, or limit their influence, but a request for continued boldness.
What will your response be to the truth of Christ's resurrection be this Easter and beyond? Will we be a church that softens the message or one that prays for greater boldness?