After an amazing break during the Christmas and New Year's holidays it back to school, back to work and back to ministry!
We are so excited about Refuge Retreat 2015. We are taking over Cat Spring Retreat outside Sealy again this year for a retreat/DNow hybrid. Students will experience some great teaching, worship together and play together from Friday evening to Sunday noon. Students will hear from student minister Josh Fields in large group teaching sessions, worship with Trent Murray and be lead in small groups by an amazing group of college-age young adults who will pour into our students the Word of God with a lot of love.
Cost for the weekend is $45 and covers all food, materials and Refuge 15 t-shirt. Love to have your student there with us! Register here then print out the medical release form, packing list and schedule from the link on the right hand side of the student ministry page.
Midweek kicked back into gear last week with an intro to our new teaching series on the life of David. I AM DAVID is a series in which we are trying to fill in the cracks between the three or four major events in David's life that we studied on Sunday mornings recently. There is so much devoted to David's life in scripture and we only scratched the surface during our Sunday morning studies. We will dig a little deeper into what made David a man after God's own heart even though he made some epic mistakes.
Join us Wednesday nights from 6pm-7:30pm in the cafe for some fun and fellowship but mostly worship and Bible teaching as we jump back into the life of Israel's greatest king.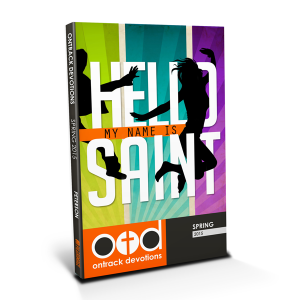 The new January On Track Devotional is available now! This month we are studying through the book of Romans. Hope you will join us in being in the Word of God daily with this great devotional resource. If you're a parent, grab one from the resource table in the cafe and work along with your students through each month's readings.
Also, encourage your student to sign up for our encouragements and accountability by texting @fbckotd to 832-497-2512. Mr. Ullirch sends out encouraging and challenging messages periodically to help students keep on track each month.
GET CONNECTED!
Looking for ways to stay connect to all things FSM?
Email Notification: Click here to  subscribe to the FSM News and Updates page of the site and you will receive an email every time there is new student news on the site.
Text Notification: We use Remind101 to text students and parents in a safe and effective way. Simply text @fsmparent to 469-203-4574 and you will be automatically added to our text alert list which will send text messages to remind you about upcoming events or alert you to changes in schedule.
Facebook: If you are on Facebook you can 'like' our student ministry page at Student Ministry @FBC Katy. We are constantly sending reminders, updates and tid-bits of goodness that you won't want to miss. Many of our Sunday Morning classes have pages of their own that you can 'like' as well. They will update you on class-specific events and information. Click here for 7th & 8th Grade Class or here for 11th & 12th Grade Class
We are also on Instagram at firstkatystudents if you want to check out some photos of our students and keep up with us that way.
As always please feel free to call, text or write me with questions! jhicks@fbckaty.com or 713-502-4669 (cell)