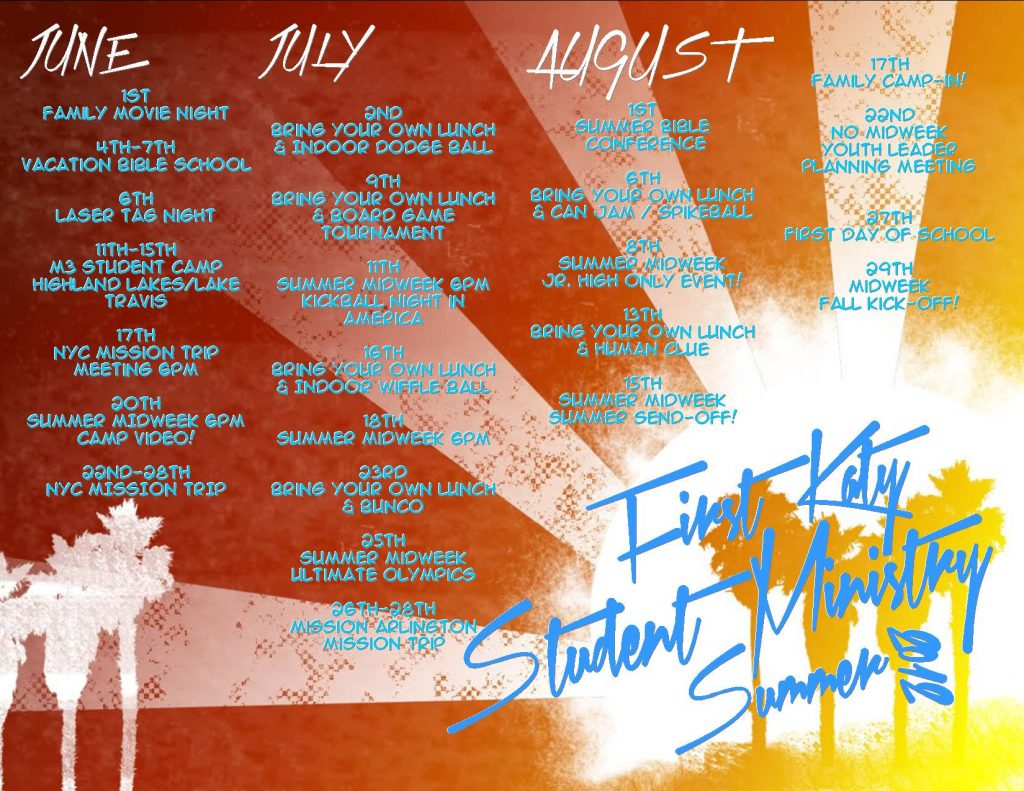 Summer Calendar 2012 Printable Version
My goal this Summer was to provide lots of opportunities for our students to hang out together, build unity and have fun. These aren't too many BIG events on our schedule that are often high cost and low involvement- I want as many STUDENTS as possible to be able to do as many ACTIVITIES as possible with us this Summer! So here's the rundown…
Bring Your Own Lunch: This is just about what it sounds like, most every Monday at noon students will meet in the Cafe with a lunch they brought for a short devotional together, before we have some fun with everything from indoor doge ball to Human Clue: a QR code scavenger Hunt. The fun begins at our normal MIDWEEK time, 6pm.
Summer MIDWEEK: This Summer Wednesday Nights are pretty hit and miss due to camp, mission trip, Independence day and Summer Bible Conference. Make sure you check the schedule for what's happening on Wednesday nights as our normal worship and study will switched up at times as we play a little this Summer.
Mission Arlington Trip: We will be taking a mini-mission trip at the end of July to work with an amazing group in the Dallas Metroplex called Mission Arlington. This group provides ministry to over 200 apartment complexes in the Metroplex and we will join them for three day of missions and ministry July 26th-28th. Stay tuned for details.
Junior High Only Night: Wednesday August 8th @ 6pm we will officially innaugurate our new "soon to be 7th graders" into our youth ministry and bless our "soon to be freshmen" as they move into high school with a fun and meaningful night.
Summer Send-Off: Wednesday August 15th at 6pm we will conclude our Summer with a night to celebrate and remember what God has done in our midst during the summer. We will do some more welcoming of our new 7th graders and we will send off our graduates in prayer.
If you have any questions about the Summer Calendar please call Jon Hicks @ 281-391-1100