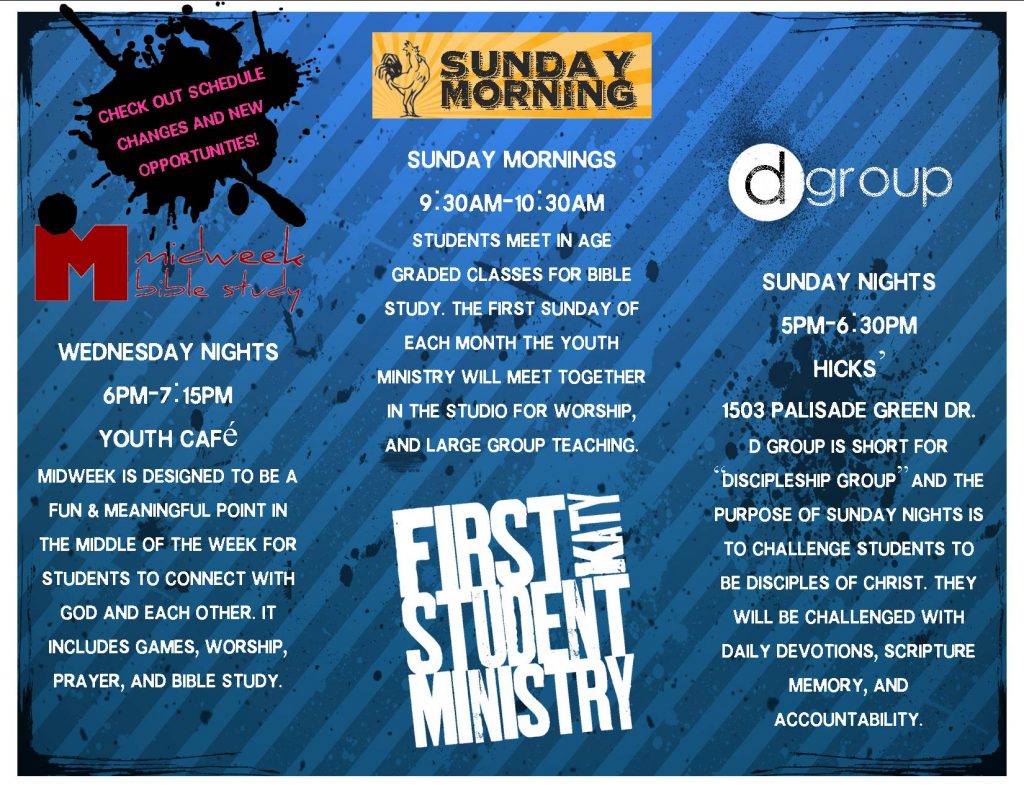 The First Student Ministry Weekly Schedule looks a little different this Fall so please take note! Sunday mornings we will still have our small group classes divided by age but instead of having a 15 minute large group time before each week we are asking students to go straight to their classes. Then, on the first Sunday of each month, we will meet together for the whole hour with music, and teaching in large group. This gives our teachers a little more time during three weeks of the month and the students a more meaningful time together once a month.
Wednesday Night MIDWEEK will experience the least amount of change from last Spring, but please notice that our official ending time is now 7:15pm. It's just a small change, but we need the extra 15 minutes so that we can have a small group prayer time at the end of our meeting. We will begin selling snacks at MIDWEEK again this year. Dinner will still be offered downstairs but salty snacks, candy, and drinks will offered upstairs for a small charge.
D Group is a new opportunity that we are adding to the mix this year. This will be an in home Bible study that will initially meet at the Hicks' home on Sunday nights from 5pm-6:30pm and be open to both Jr. High and High School students. When participation allows we will be break the Jr. High and High School up and create two D Groups. The purpose of this study is to challenge students to discipleship. There will usually be devotions to complete weekly, challenges of scripture memory and accountability. D Group will look at theological and worldview issues and help students become lifelong followers of Christ. The Hicks' live at 1503 Palisade Green Dr. Katy, TX  77493
Please direct any questions about new programs or program changes to Jon Hicks at jhicks@fbckaty.com or 281-391-1100.