We are so excited about what is happening this Fall at FSM! Below is a calendar of our  youth events for the semester and some explanation about some of our newer opportunities on this year's schedule. Print out a copy for your refrigerator or bulletin board and join us as we pursue a deeper knowledge of God and how we serve Him.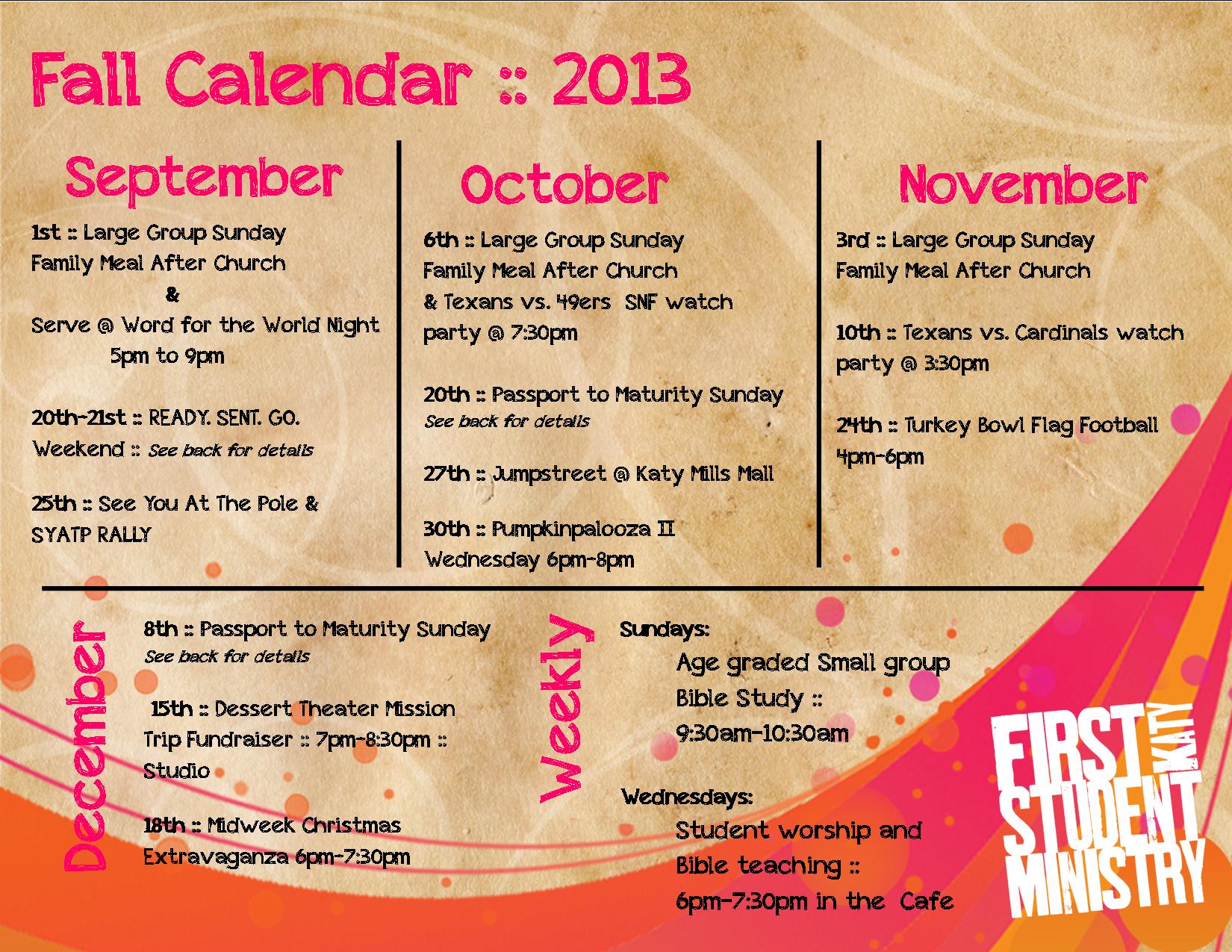 New Up-coming Opportunities
Ready. Sent. Go. Weekend :: A Weekend of Missions and Service
RSG Weekend is designed to help students focus on their call to Go, Witness and Serve. RSG kicks off with a Friday night rally of worship and teaching on our mission to go. Students will be taught what it means to live missionally and be a witness "while they are going." They will also receive their assigned project for the next day and prepare to go out all over Katy and West Houston to witness and serve.
Saturday students will meet up with their groups at church, pack a lunch and head to their assigned locations for a morning service project.  After lunch on site, students will head back to Katy for an afternoon project with the whole group before closing the day out with worship and testimony time in the evening.
Passport to Maturity
Passport is a new discipleship initiative designed to maximize time and impact to prepare students to be lifelong followers of Christ.
Passport meets twice a semester and offers students a 6 hour intensive discipleship experience designed to prepare them for life after high school. Each Passport participant begins with the BaseCamp class which includes basic Baptist doctrine and progresses on through classes focusing on how to study the Bible, the life of Christ, prayer, the church, defending your faith and more.
Students will be able to track their progress  and have confidence that they are moving forward toward a mature faith.
Passport happens on designated Sundays from Noon to 6pm with lunch and some fun along the way.
Get Connected!
Looking for ways to stay connect to all things FSM? Click here to  subscribe to the FSM News and Updates page of the site and you will receive an email every time there is new student news on the site.
If you're on Facebook, you can 'like' our student ministry page at Student Ministry @FBC Katy. We are constantly sending reminders, updates and tid-bits of goodness that you won't want to miss. Many of our Sunday Morning classes have pages of their own that you can 'like' as well. They will update you on class-specific events and information. Click here for 7th & 8th Grade Class or here for 11th & 12th Grade Class
As always please feel free to call, text or write me with questions!
jhicks@fbckaty.com or 713-502-4669 (cell)