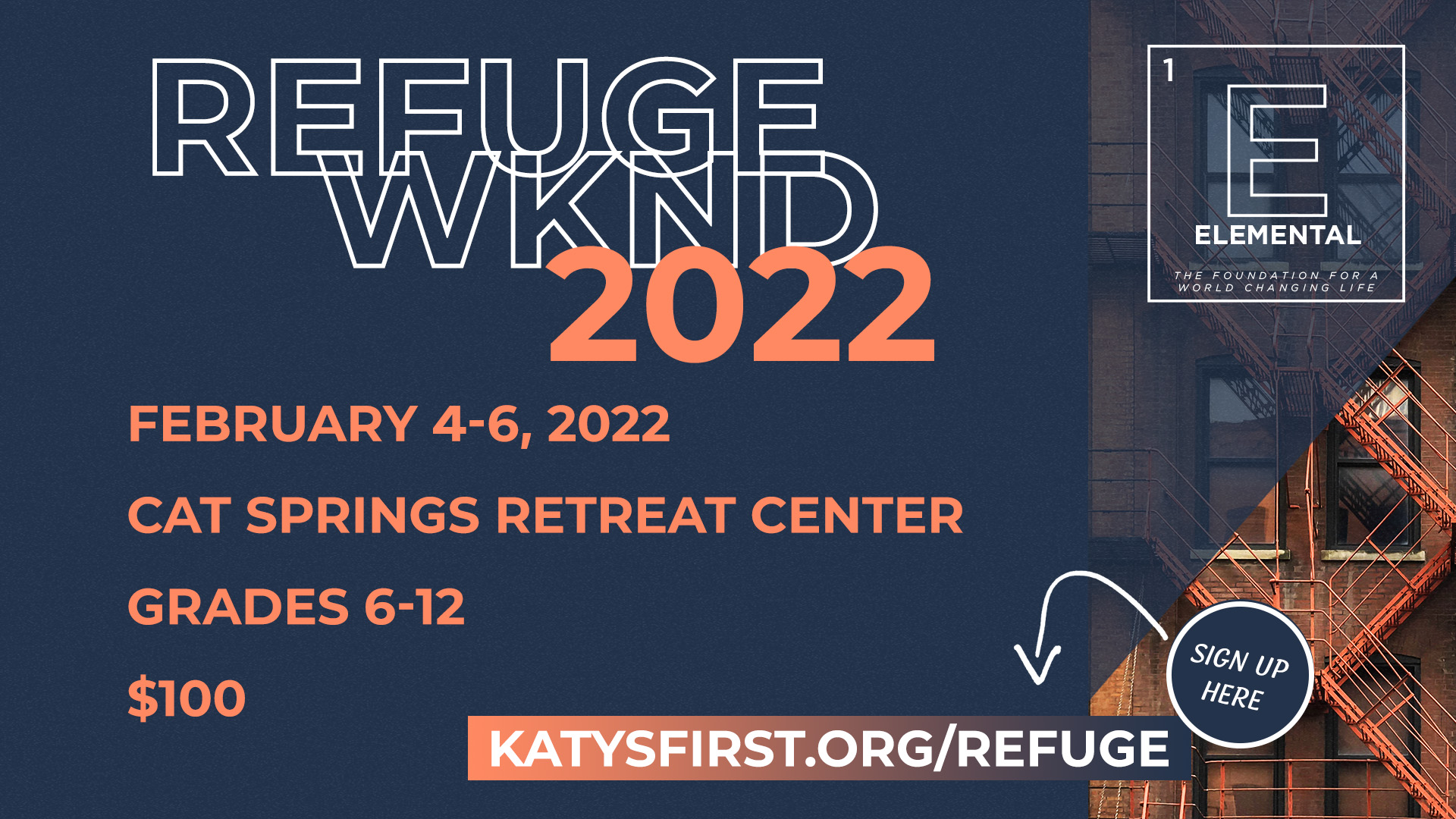 REFUGE 2020
All High School and Junior High students are invited to join us for our winter retreat, REFUGE! The dates for this retreat are February 4 – 6, 2022. We will be going to The Cat Spring Retreat, about 45 minutes from Katy. The cost for this trip will be $100 and will all inclusive including transportation and a t-shirt.
A non-refundable $50 deposit is required at checkout and the full payment is due 2 weeks before we leave (January 21st).
Please email k1students@katysfirst.org if you have any questions.
FEBRUARY 4-6, 2020
CAT SPRING RETREAT CENTER
COST: $100

Your students want their lives to matter. They want to make a difference. When they are moved to want to change the world, they start with huge amounts of passion. But often they discover that passion is not enough. Instead, to remain faithful to the mission that God has given them, your students must build their lives on critical elements – calling, character, creed, and commitment. When these four elements combine, it creates a reaction that spurs on mission in their lives for the long haul.
Elemental: The Foundation for a World-Changing Life will challenge your students to be elemental people, who move beyond a mere passion for becoming people of mission who change the world.
SESSION 1: CALLING
You'll show students that life change should lead to world change. (Acts 9:1-22)
SESSION 2: CHARACTER
You'll help students see that who you are affects what you do. (Acts 20:17-38)
SESSION 3: CREED
You'll teach students that what you believe fuels what you do. (1 Corinthians 15:1-11)
SESSION 4: COMMITMENT
You'll help students understand that it's not what you start—it's what you finish. (Acts 28:16-31)